Dachan Food (Dalian) Co., Ltd. was awarded the title of "Outstanding Food Supplier of 2023"
The 5th Shenzhen International Food and Beverage Exhibition 2023 was successfully held from May 11th to 13th at the Shenzhen Convention and Exhibition Center. To further promote the rapid development and innovative upgrading of the catering industry in Guangdong, Hong Kong, and Macao, and to promote the development and circulation of new ingredients, products, and creative dishes within the industry. Using ingredients and new dishes as carriers, we aim to help Shenzhen build a highland of catering culture and lead the new trend of catering consumption in the Guangdong Hong Kong Macao Greater Bay Area. Dachan Food (Dalian) Co., Ltd., the international business of Dachan Group, has made a significant debut with its flagship products such as prepared dishes, pre made dishes, and fully cooked products, gathering with high-quality ingredient brand manufacturers from all over the country.

Opening Ceremony of the 5th Shenzhen International Catering Ingredients Exhibition in
2023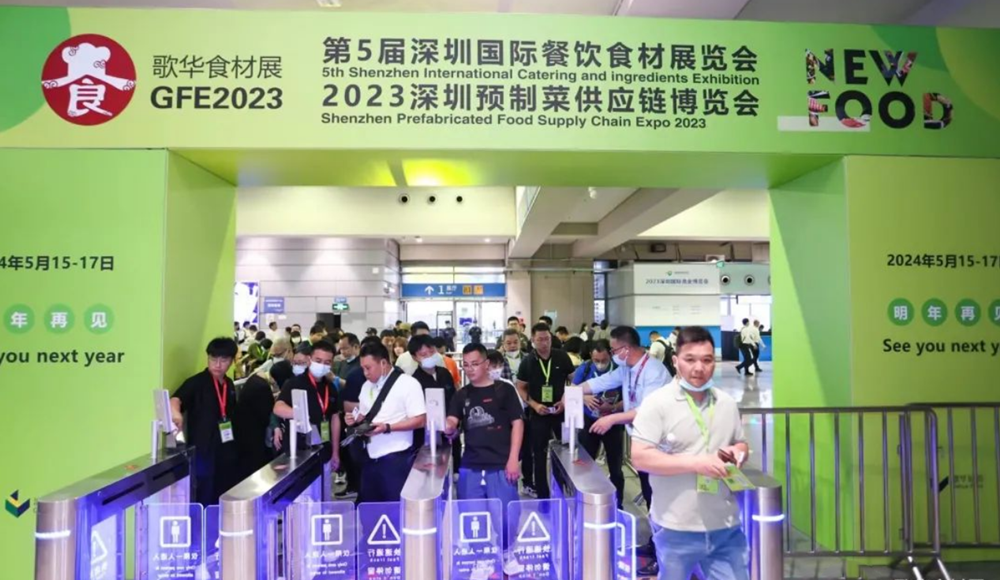 Entrance of exhibiting audience
Dachan Food (Dalian) Co., Ltd. is located in Booth B22 of 6 pavilions. The product exhibition area includes chicken omni channel products. It mainly promotes new products of the fully cooked series, such as "Kung Pao Chicken String", "Korean Spicy Chinese Cabbage Pork Ball", "Flame Big Breast Chicken String". It has ingenious research and development to highlight flavor differentiation; Prefabricated dishes mainly feature the easy to cook series of no blanching, no washing, and no cutting, as well as the sauce popular series with excellent sauce flavor, all of which are the best choices for quick dining; Cherry chicken products are processed on-site with cherry chicken soup, attracting many viewers to stop and taste. At the same time, the entire display area products have also received unanimous praise from the on-site tasting officer.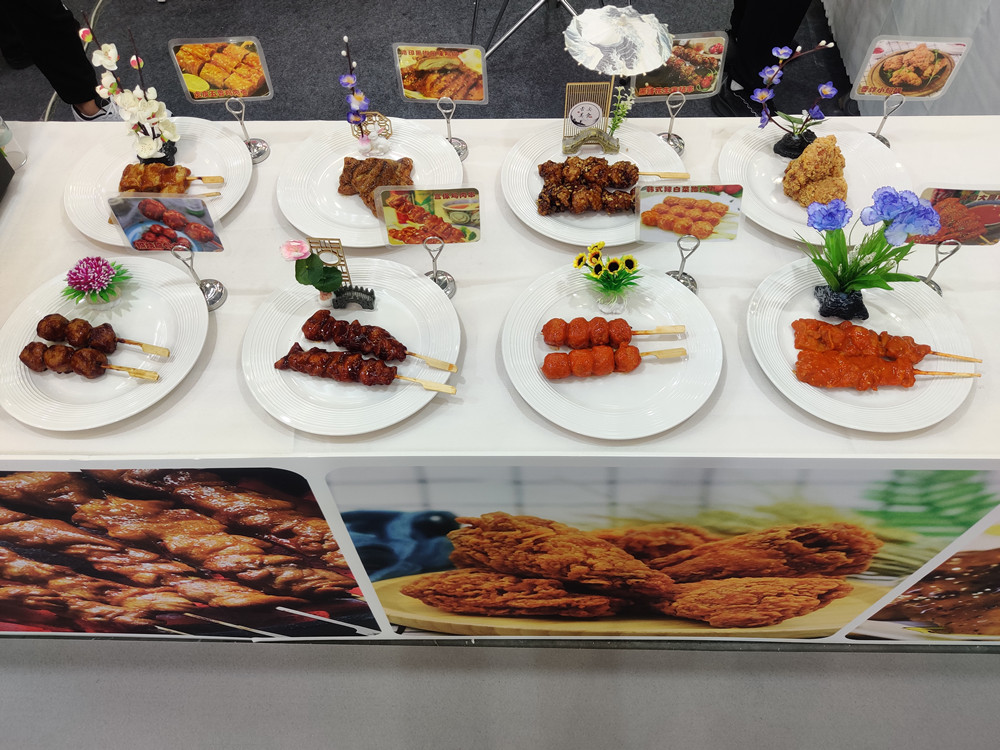 Display of fully cooked series products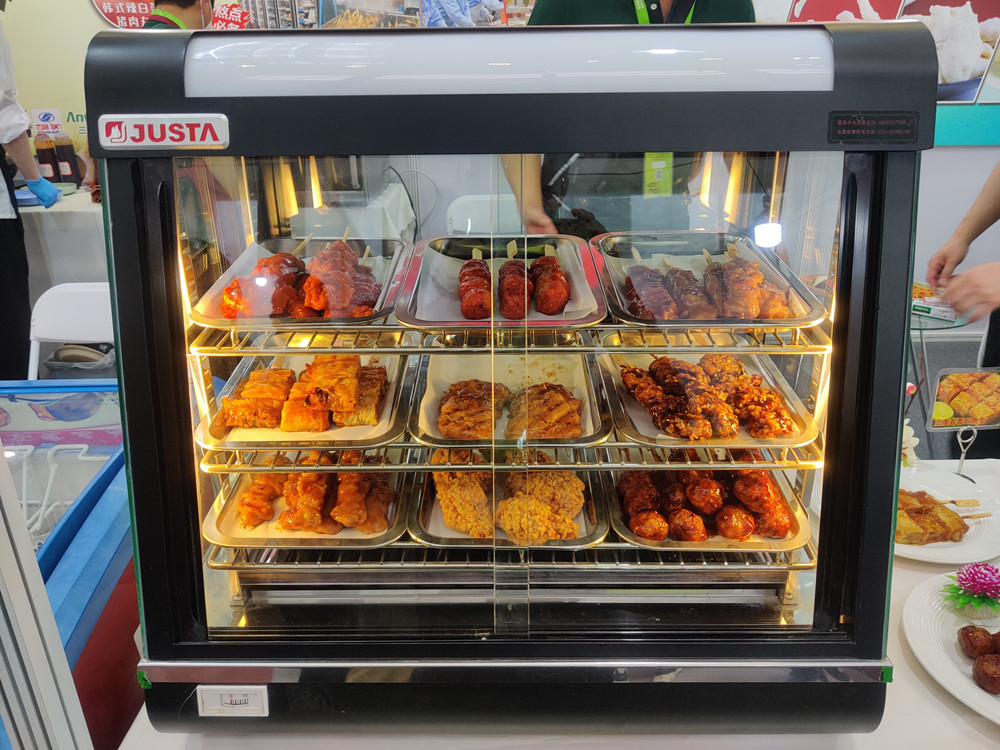 Fully cooked product display cabinet
Prefabricated Dish Series Product Display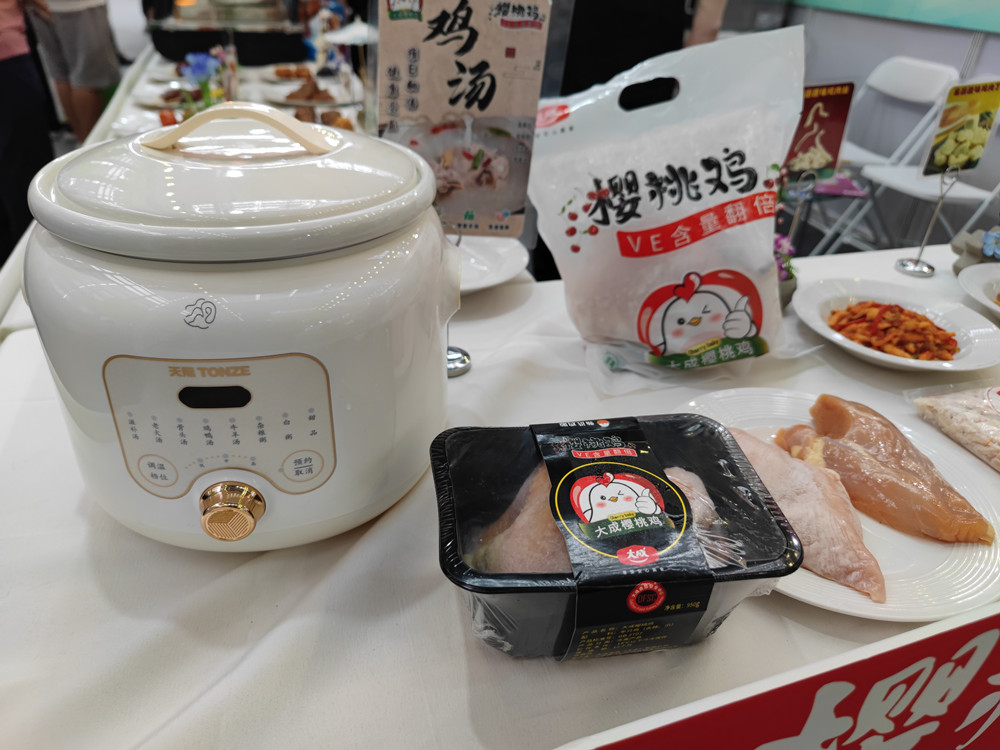 Cherry Chicken Product Display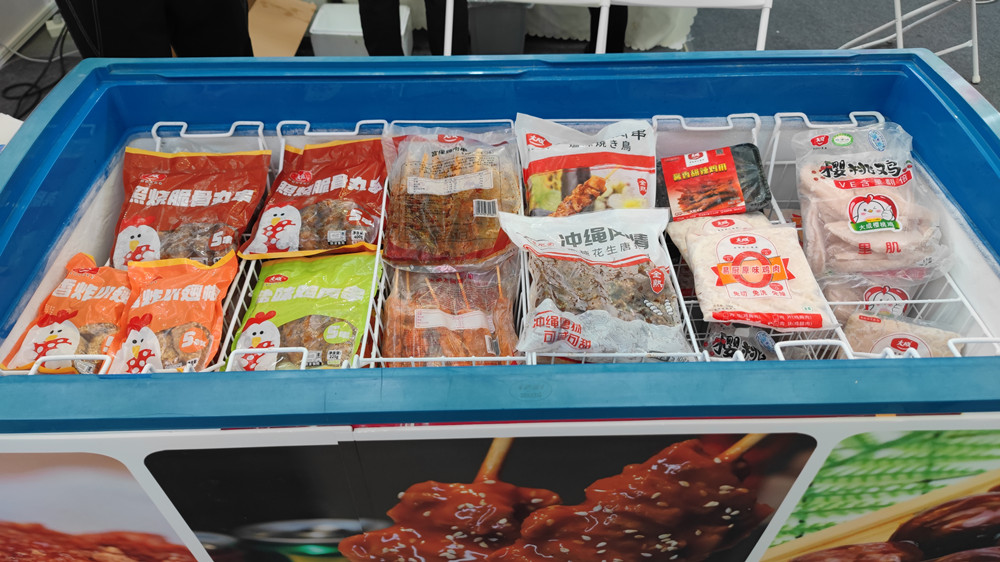 Various series of products appear at the exhibition
At the exhibition site, the international sales team of Dachan Food (Dalian) Co., Ltd. provided detailed explanations of the products to the exhibition audience, allowing them to deeply feel the charm of the Dachan brand. Through high-quality service and trustworthy products, the company has continuously won everyone's recognition. At the same time, professional R&D personnel process products on-site, allowing exhibitors to experience the diversity and convenient application of chicken products up close, enhancing their understanding of Dachan products.
The staff introduces the company's background and products to the exhibition audience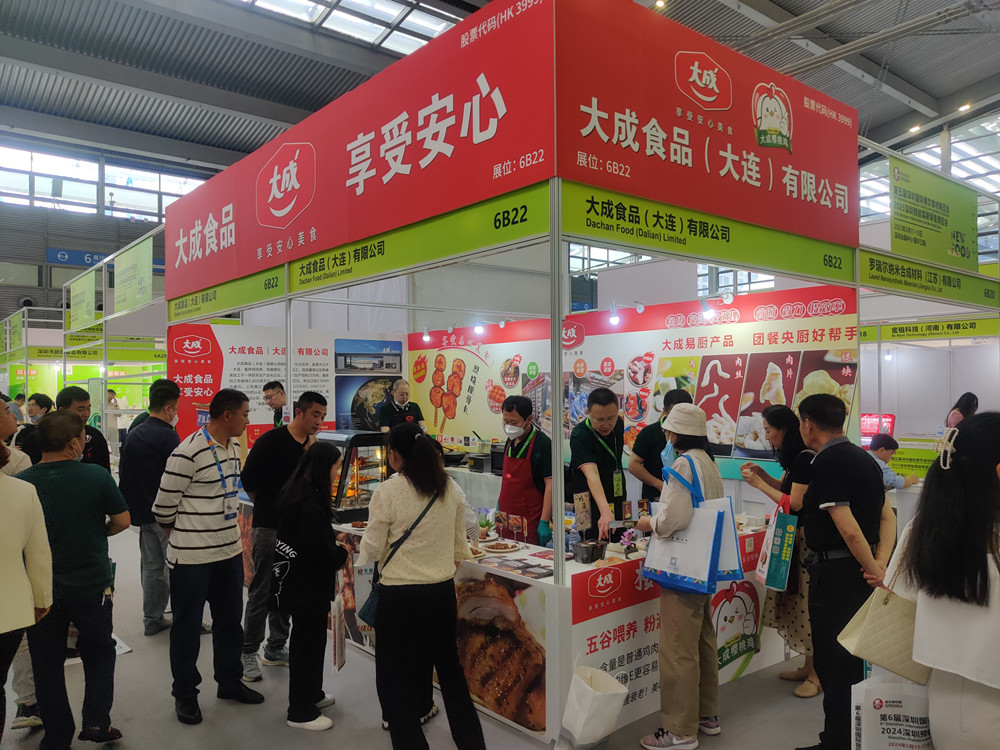 Exhibition visitors stop to learn about and try out products
This year's exhibition held a selection event for the "2023 Excellent Ingredients Supplier". Dachan Food (Dalian) Co., Ltd., as an exhibitor, also participated in the selection. With its product advantages and influence, it was successfully selected as one of the top ten enterprises through online voting and was selected as the "2023 Excellent Ingredients Supplier".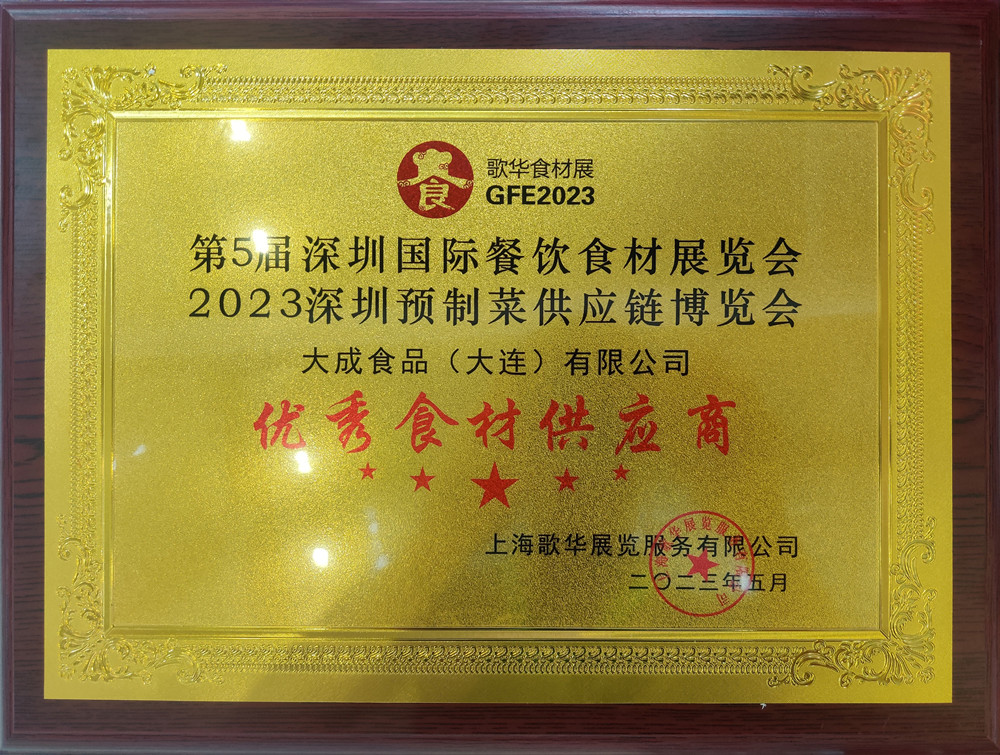 Dachan Food (Dalian) Co., Ltd. was awarded as the "Outstanding Food Supplier of 2023"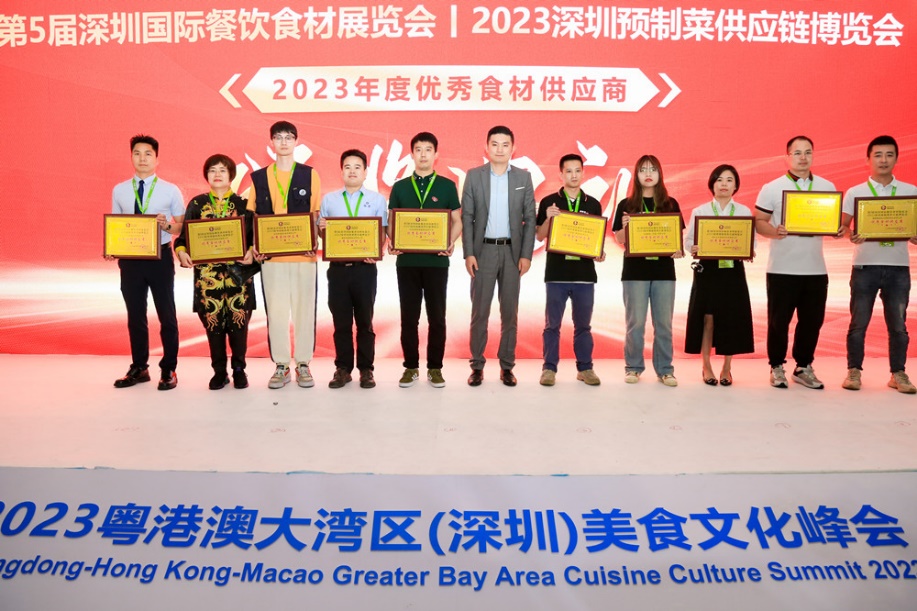 Group photo of enterprises awarded the title of "Outstanding Food Supplier of 2023"
Through this exhibition, Dachan Food once again showcases its high-quality products and ingenious services to consumers. The company adheres to the theme of "new products, new ideas, new definitions, promoting brands, expanding channels, and accepting orders", and is committed to building a leading brand in the chicken food industry. Dachan Food will continue to adhere to the business philosophy of "integrity, humility, and foresight", bringing more peace of mind food to customers and consumers.
Chief Editor: Zhang Quan
May.17th 2023