Many participants were at Light Industry Expo, Dachan remains true to its original aspiration
Dachan Food has been invited to participate in China(Dalian) Light Industrial Products EXPO for five consecutive years
The 13th China(Dalian)Light Industrial Products EXPO (Light Industry Expo for short) was grandly opened in Dalian Xinghai Convention and Exhibition Center on November 2. With the aim of "developing light industry and enriching people's lives", the Expo, sponsored by China National Light Industry Council, has more than 500 international standard booths for well-known manufacturers from more than 20 provinces, autonomous regions and cities across the country participating. Dachan Food (Dalian) Co., Ltd., the international enterprise of Dachan Group, was also invited to attend the exhibition as a key consumer goods company in Jinpu New Area, Dalian. There were many people at the exhibition.   
The Opening Ceremony of the 13th China(Dalian)Light Industrial Products EXPO
Dachan Food (Dalian) Co., Ltd. was located at Booth 138-139 in the east area of the exhibition hall. At the exhibition, it showed the customers a variety of fully cooked products (steamed, boiled, baked) with different processes. These products included Japanese style "Zhaoshao Crispy Bone Ball", Sichuan style "Tiao Skin Chicken String", and Minnan style "Tiger Skin Spicy Rolls". At the same time, Dachan set up a free tasting area where the professional team explained the safety management production mode from the farm to the dining table, so that the customers can understand the production process of products in more detail from all aspects. In addition, a professional live broadcast team was set up on the scene to conduct online live broadcast publicity. With high media exposure, Dachan Food was the most shining focus at the exhibition.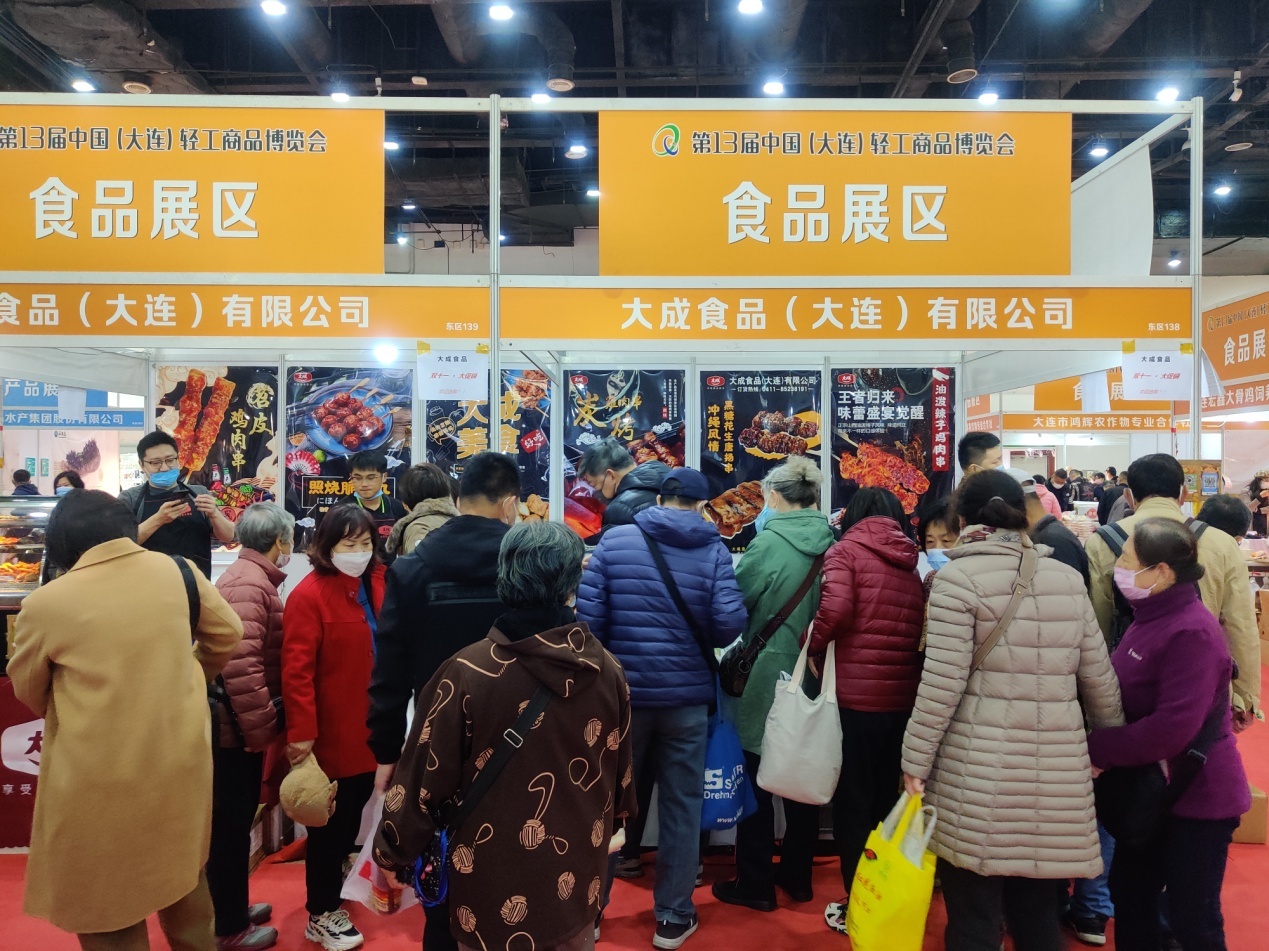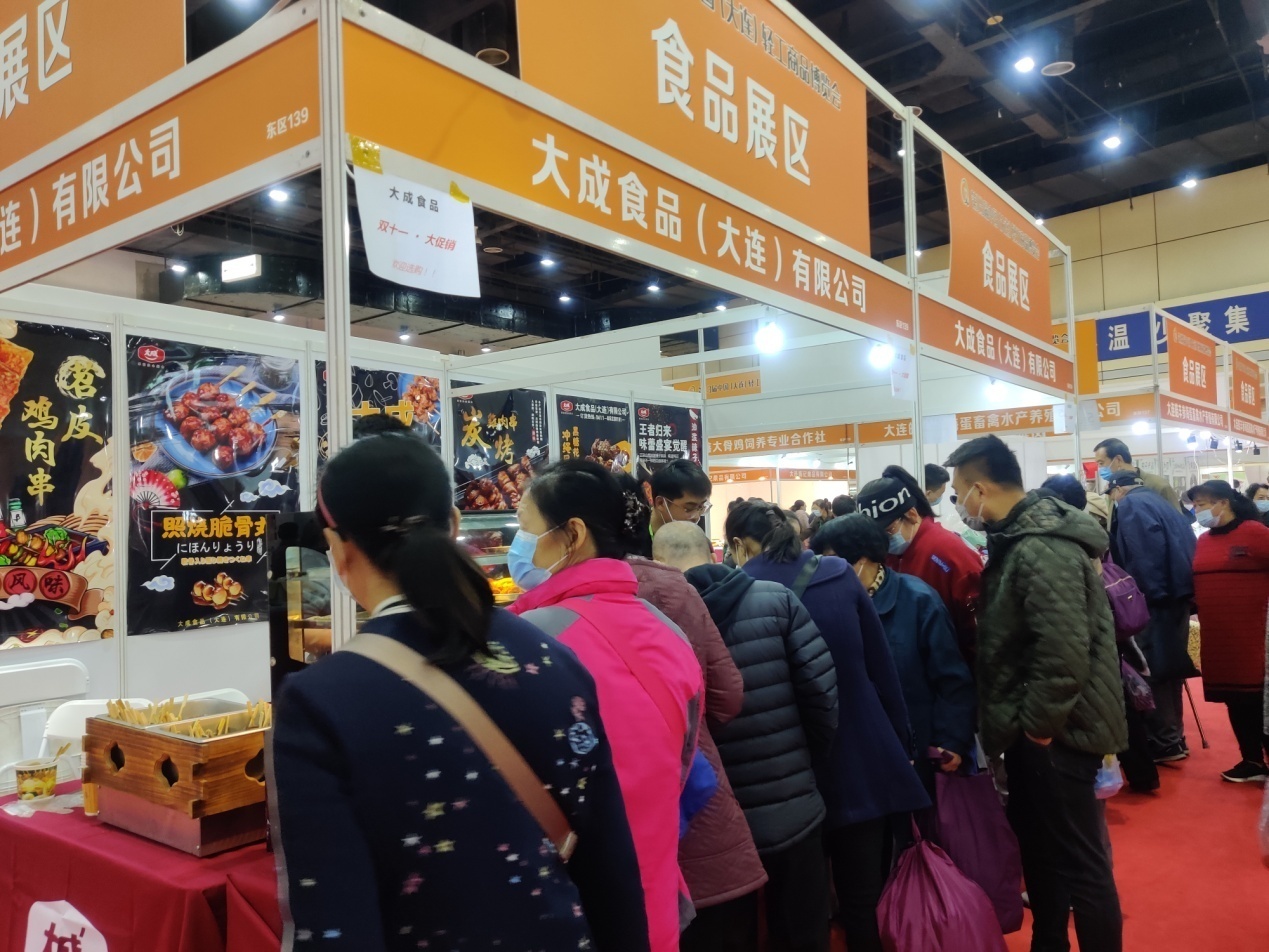 Consumers gathered to buy, and the scene was quite lively
Many customers said that as Chinese people pay more attention to food nutrition and safety, they will choose branded products to taste and buy. As a leader in the food industry in Dalian, Dachan Food was known for its reliable and reassuring chicken products. The service tenet of Dachan Food is that every consumer can "enjoy reassurance food".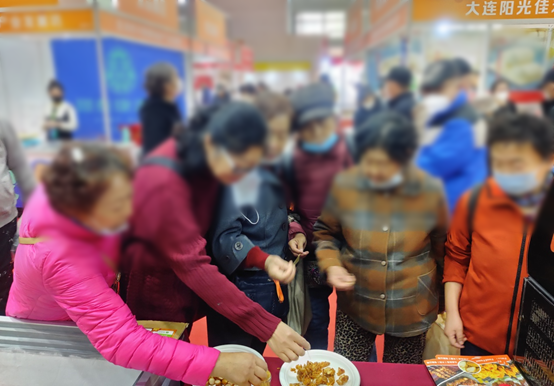 On site customers were trying Dachan products
Live broadcast by on-site staff
Because of the epidemic, people have changed their consumption habits, and have more identified fully cooked products in recent years. As a leading enterprise in the cooked food market, Dachan Food is constantly researching and developing new products, making improvement, working on the perfection of the categories of the cooked food, and surprising customers. Dachan Food always provides customers more choices and more delicious food.
Product recommendation and purchase at the exhibition site
When the weather is getting cooler, a cup of Oden is popular with customers
The exhibition ended on November 6 perfectly. Dachan Food (Dalian) Co., Ltd. has participated in China(Dalian)Light Industrial Products EXPO for five consecutive years. Through this exhibition, Dachan Food once again showed its excellent products and ingenious services to the consumers. Dachan Food is an environmental protection enterprise that has always been committed to pursuing good quality, food safety and high hygiene standards, and will continue to follow the business philosophy of "honesty, humility and pioneering vision " to bring more reassuring food to customers and consumers.
Dachan Food (Dalian) Co., Ltd., No. 26, Tianma Road, Baotai Town, Puwan New Area, Dalian
Light Industry Expo is the only exhibition held by China National Light Industry Council at home. Since 2009, it has successfully held 12 sessions, and has become the highlight of China Light Industry Expo. This exhibition has also been strong supported by Dalian Municipal People's Government and Dalian Municipal Bureau of Industry and Information Technology.
Editor in chief: Zhang Quan
November 11, 2022